Our Products
Vendor:

Regular price

£14.99 GBP

Sale price

£12.49 GBP

Unit price

per

Vendor:

Regular price

£69.90 GBP

Sale price

£62.45 GBP

Unit price

per

Vendor:

Regular price

£7.99 GBP

Sale price

£6.99 GBP

Unit price

per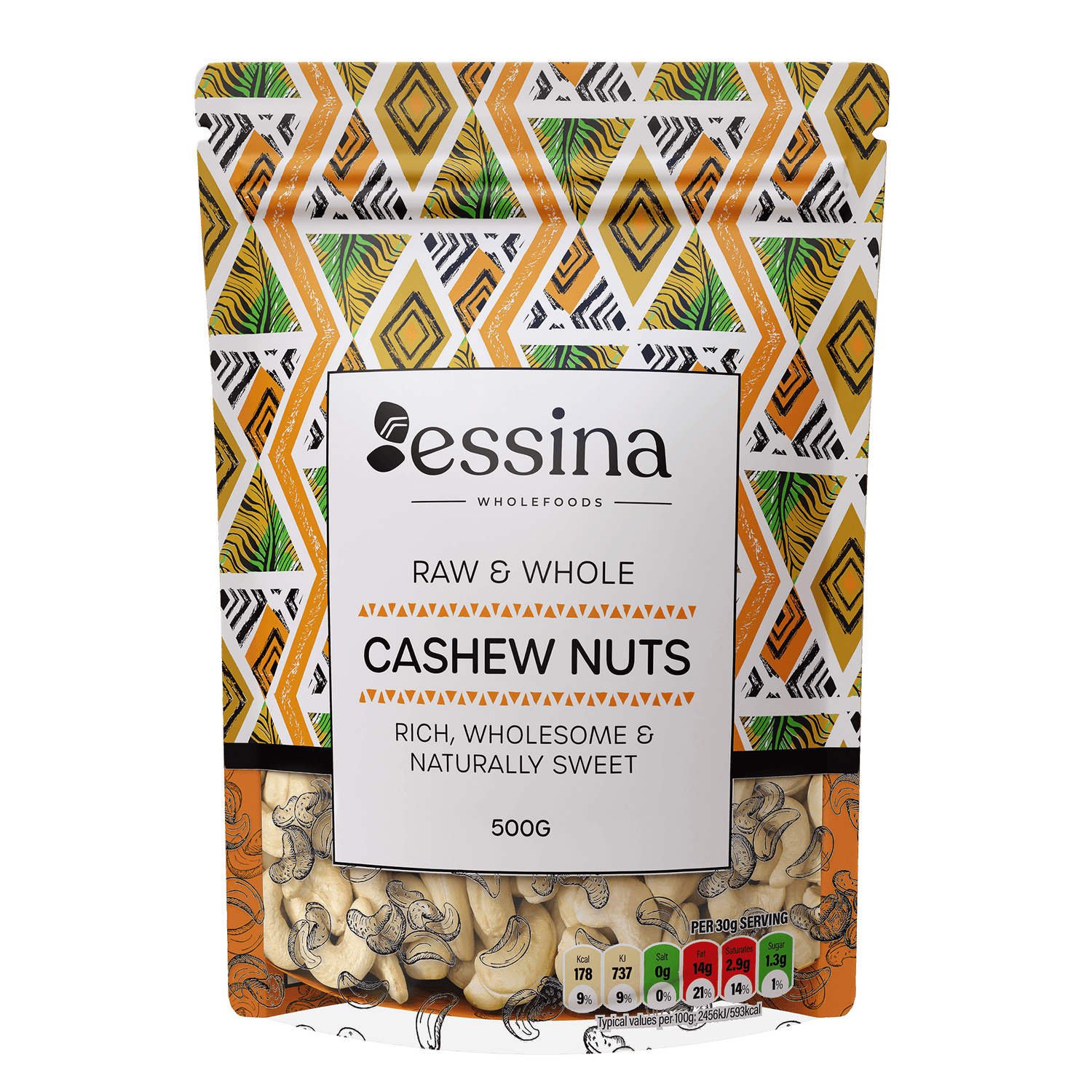 Raw Cashews
Essina Wholefoods® flagship product at launch is our Whole & Raw Cashew Nuts from Côte d'Ivoire which perfectly encapsulates our mission to demonstrate how sourcing exceptional produce direct from Africa not only supports the growing communities but vastly reduces environmental impact.
Buy Now
About Us
Essina Wholefoods® celebrates the authentic wholefoods of Africa. We bring real wholefoods direct to our customers, whilst giving back to the communities by sourcing produce from smallholder farmers and processors. Our name hails from the lost trading city of Essina in Somalia, and we remain committed to showcasing the best of produce, just as the merchants of Essina did centuries ago. By making us your trusted source of your Wholefood UK needs, you are supporting the African wholefoods industry.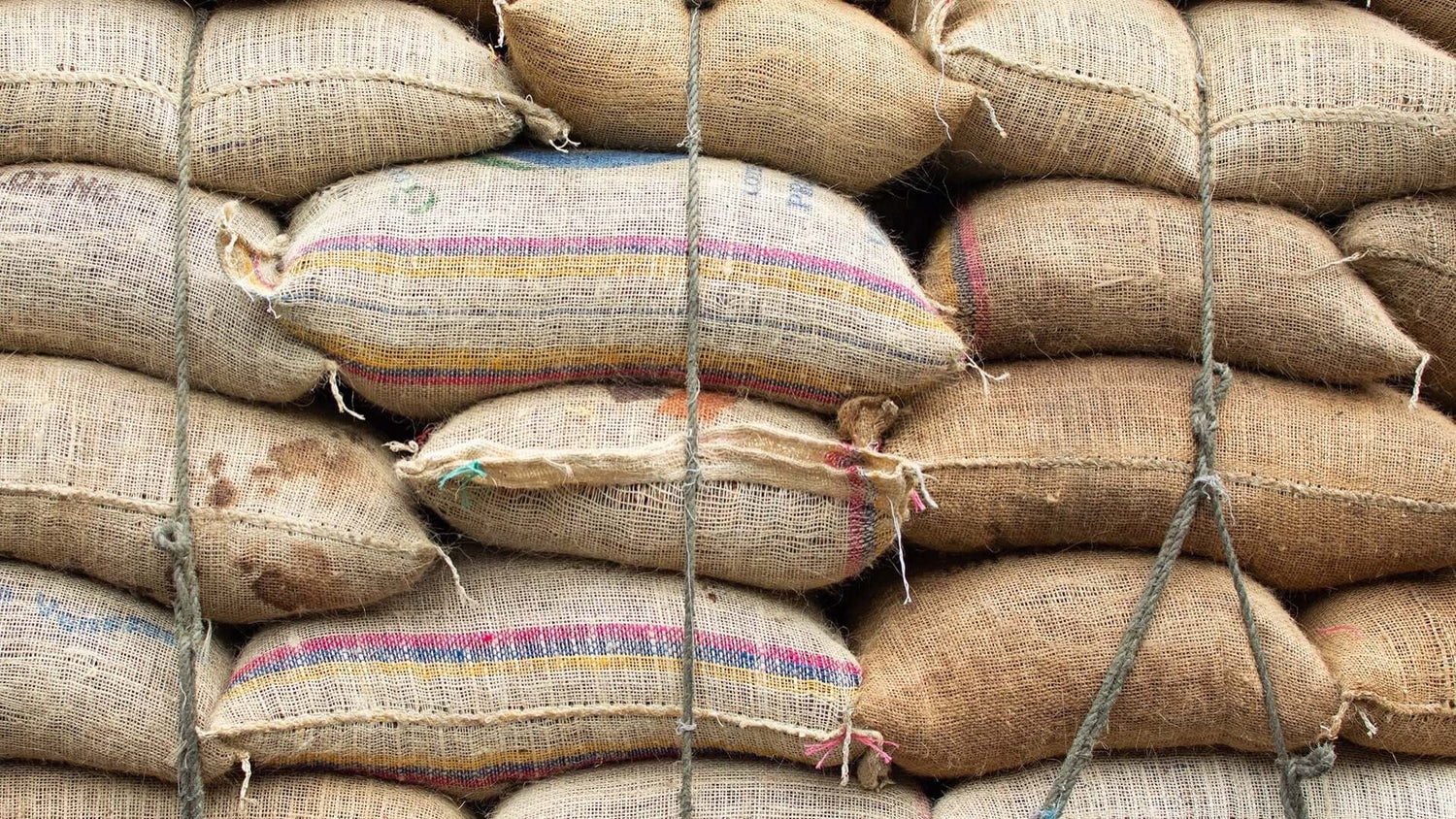 Find Sustainable Sources of Quality Wholefoods.
At Essina Wholefoods®, we're committed to sustainably sourcing your high-quality wholefood UK needs from small-scale African farmers. By directly sourcing and processing where they're grown, we reduce transportation's environmental impact and ensure the growing community retains more commercial value and recognition for the product's true origin.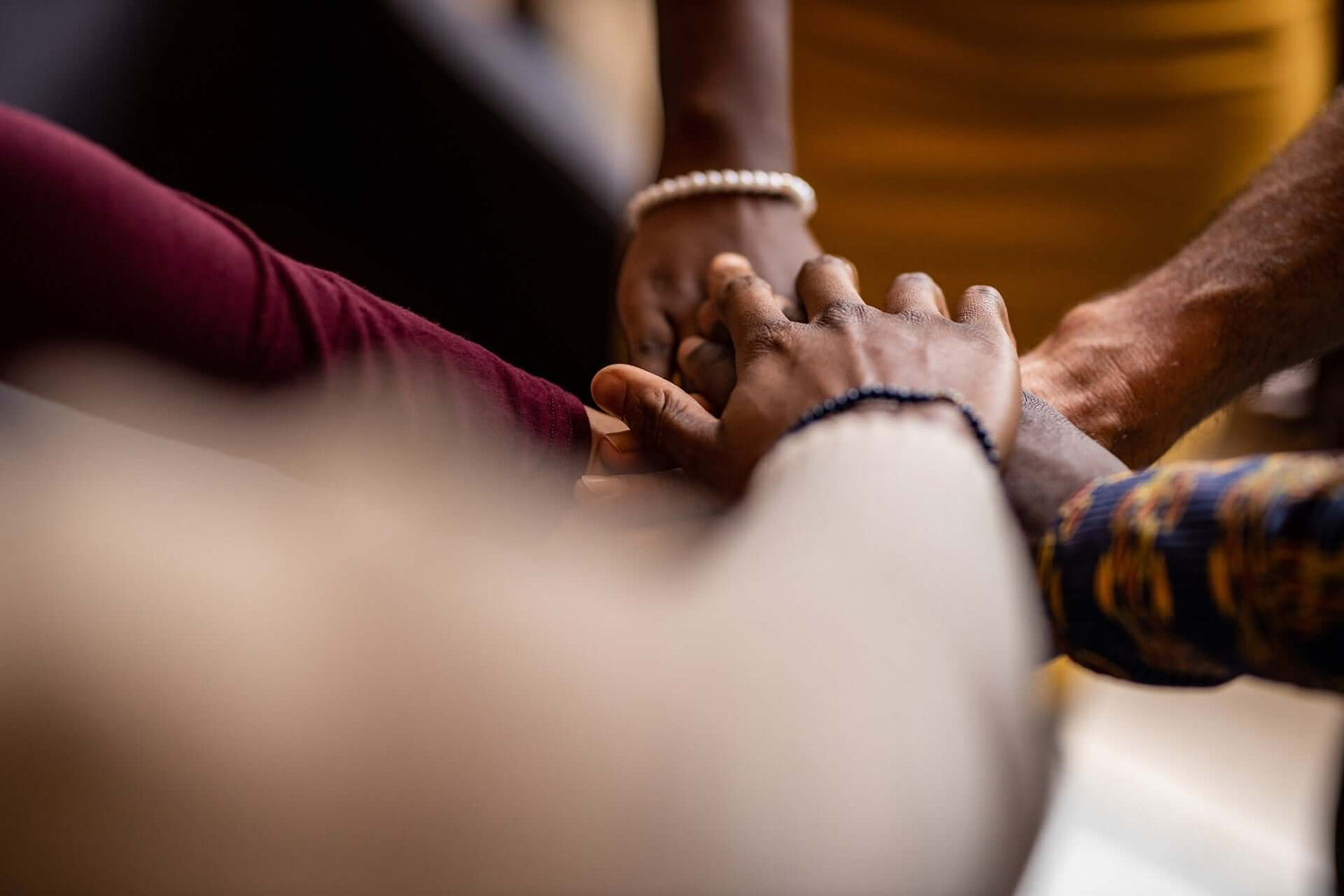 Connect with African Communities to Benefit Growers.
We are proud to connect you with African farmers and communities to make sure your wholefood UK needs come from sustainably-sourced, quality sources. The ancient African philosophy of Ubuntu is behind everything we do: "humanity towards others" represented through our ethical sourcing to protect producers, workers, communities, and their environment.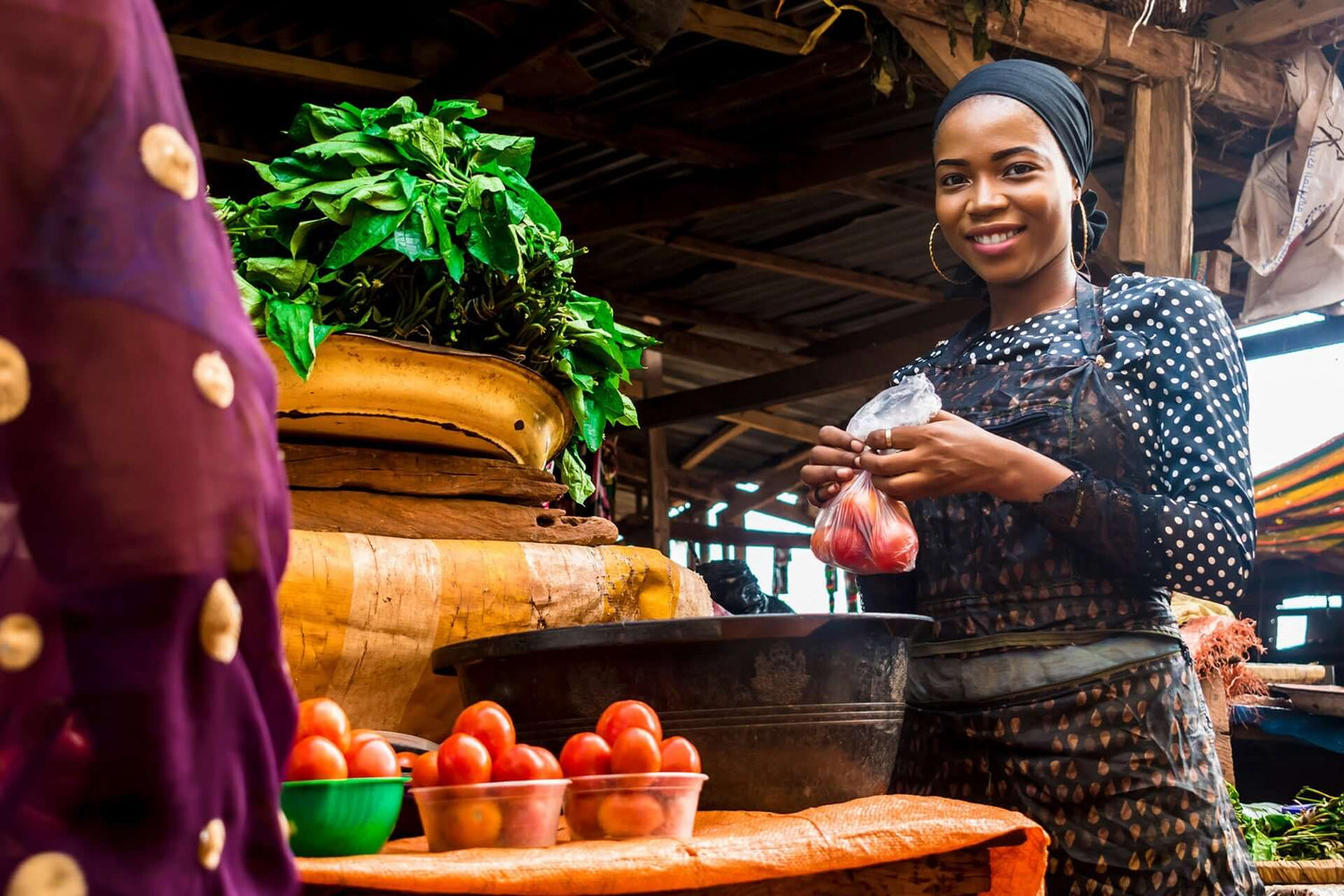 Know Where Your Produce Comes From.
Providing sustainable sourced produce direct is what our Wholefood UK operations is all about. You can be assured that your food comes from regulated sources, thanks to our network of farmers and growers across the continent. Whenever we source products, we ensure their rights and welfare are always taken into account.
Reviews
So crunchy!

I would never buy from elsewhere, these cashews are so delicious! The quality is 100%! I'll definitely come back and buy more soon : )

by Veronica

Great snack

Very pleased I've discovered Essina cashew nuts. I don't like salted nuts, and I find these just what I want in a snack - so much so I now snack a little too often!

by Caro R

Addictive

These Essina wholefoods cashews are very addictive. They are sweet and smooth with a buttery texture. Great quality product and I will definitely be ordering again when I run out.

by Dona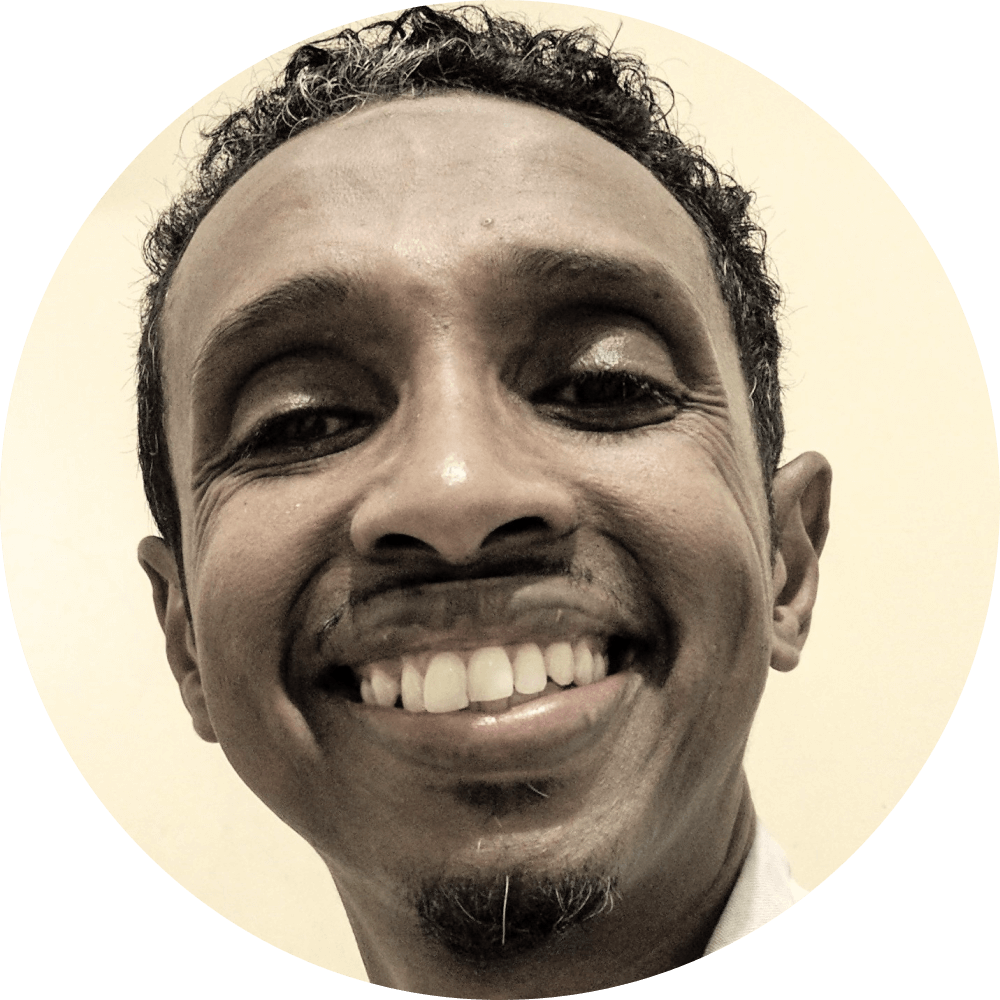 About the Founder
Samale Nur, the founder of Essina Wholefoods®, was born and raised in Somalia and spent his childhood exploring local farmer's markets with his mother. Following a career as a sourcing and procurement consultant in the UK, Samale established his wholefood brand in 2021 to showcase African food sourced for your wholefood UK needs.
Revitalise your meals with the zestful embrace of coriander cashew sauce! Step away from the mundane and infuse your dishes with a symphony of flavours, sure to tantalize your taste...

Revitalise your meals with the zestful embrace of coriander cashew sauce! Step away from the mundane and infuse your dishes with a symphony of flavours, sure to tantalize your taste...

Polenta is a traditional Italian dish made from coarsely ground yellow cornmeal. It has a smooth, creamy texture and is often served as a type of porridge, side dish, or...

Polenta is a traditional Italian dish made from coarsely ground yellow cornmeal. It has a smooth, creamy texture and is often served as a type of porridge, side dish, or...
Frequently Asked Questions
What is whole food?

Whole food is simply food that has been minimally processed and is in its most natural form. Wholefoods are increasingly popular due to the many health benefits they provide. These include higher levels of vitamins, minerals, fibre and antioxidants than processed foods. They also help reduce your risk of obesity, type 2 diabetes, heart disease, cancer and other chronic illnesses. Eating a diet composed of whole foods provides better overall health outcomes because it relies on natural rather than synthetic ingredients to meet nutrition needs. Whole foods provide more energy than junk food as well as being lower in toxic fats and high in beneficial plant-based proteins. With this in mind, it's no wonder that UK supermarkets are increasingly stocking their shelves with an array of products from organic produce to free-from convenience snacks, resulting in healthier eating choices for the consumer.
How can I find recipes with whole foods?

Our blog offers dozens of healthy and delicious recipes that are made entirely from whole foods. Our recipes make it easy to incorporate more nutritious ingredients into your daily diet. We feature a wide variety of flavourful meals that can be cooked in no time at all using only the freshest, healthiest ingredients. From Cashew and Sun-Dried Tomatoes Pesto to Vegan Cashew Cheese and everything in between, you'll be able to find plenty of tasty options on our blog. Are you enjoying our delicious recipes? Share your culinary creations with us on social media! We'd love to see how you're incorporating our recipes into your daily meals. Whether you're adding your own unique twist or sticking to the original, we want to hear from you. Don't forget to tag us in your posts and use our hashtag so we can feature your creations on our page. By sharing your creations with us, you're helping to inspire and connect with our Wholefood UK community of food lovers. So go ahead and get creative in the kitchen, we can't wait to see what you come up with!
Where can I find coupons for whole foods?

Join our community and save big on wholesome foods! At Essina Wholefoods™, we know how important it is to find great deals on nutritious foods. That's why we offer a convenient Subscribe and Save option for our loyal customers to meet their Wholefood UK needs. Plus, signing up for our newsletter and following us on social media ensures you never miss out on exclusive deals and promotions. Let's build a healthy community together, one wholesome meal at a time. Join us today and start saving!
I'm interested in buying some authentic African wholefoods, where can I find your store?

When it comes to authentic African whole foods, Essina Wholefood™ online store has got you covered! The team's passion for sourcing only the highest quality ingredients means that every item you add to your basket is guaranteed to be top-notch. And if you don't see what you're looking for, don't hesitate to reach out and ask the team if they can meet your Wholefood UK needs. We promise they won't bite. In fact, they might even throw in a pun or two. Shop Essina Wholefood® for all your wholesome African food needs!
What is Essina Wholefoods™ target market?

Our customer are from diverse backgrounds but have number of things in common - they are looking for ethically sourced whole foods in the UK, organic produce that are traded fairly, at competitive prices. We cater to people of all ages - from college students to mature parents - all interested in making healthier lifestyle choices. Our mission is to provide our customers with their Wholefood UK needs - quality nutritional ingredients that suit their dietary requirements - so that they can enjoy life more.
Does Essina Wholefoods™ UK sell any unhealthy or processed products?

At our Wholefood UK operations, we're dedicated to providing you with the very best in wholesome, unrefined to natural, additive-free ingredients, which means you can trust every product we stock. We're excited about our plans to expand our product range to include an even wider selection of nuts, dried fruits, grains, legumes, and seeds. From organic produce to fairtrade delights, we take pride in sourcing only the freshest ingredients for our community. Say goodbye to processed junk and hello to real food with Essina Wholefood UK.
Are Essina Wholefoods™ Raw and Whole Cashew Nuts organic?

Our current offering is not. But we are glad to announce our products have been recently certified organic. Plus, we're fairtrade certified too, so you can feel good about snacking on our nuts while supporting ethical sourcing!
What are some ways to use Essina Wholefoods™ Raw and Whole Cashew Nuts?

Our cashew nuts are a versatile ingredient that can be used in a variety of dishes, from stir-fries to salads to vegan cheese. They also make a great snack on their own; check out our recipe section.
Are Essina Wholefoods™ Cashew Nuts ethically sourced?

Yes, we're committed to ethical sourcing and working directly with smallholder farmers and processors in communities where our products are grown to ensure fair prices and sustainable practices.
Is your packaging compostable/recyclable?

Yes, our packaging is recyclable and has been assigned UK Recycle 4 symbol, which means it can be recycled by returning it to large stores with recycling facilities that accept plastics marked with Recycle 4 symbol. The stores will collect the packaging and send it to a recycling facility where it will be sorted, cleaned, and processed into new products.

At our company, we are committed to reducing plastic waste from our supply chains, and we are actively exploring alternative materials to replace plastics. Our ambition is to move towards a combustible or zero waste approach, where all our packaging can be either composted or reused without causing harm to the environment.
Are raw cashews ready to eat or do you have to roast them first? As I understand raw cashews have toxin called 'urushiol' and therefore are dangerous to consume!

Raw cashews (in-shell) are not ready to eat and should not be consumed as they contain a toxin called urushiol, which is also found in poison ivy and poison oak. Urushiol can cause an allergic reaction or skin irritation in some individuals.




However, the raw cashews that are available in the market have been steamed or roasted to remove the outer shell and to neutralise the urushiol toxin. These cashews are still often labelled as 'raw', since they're free from additatives but they are safe to eat without further processing or roasting. 
Are Essina Wholefood UK cashews free from genetically modified organism (GMO)?

Our cashew nuts are not genetically modified and contain only natural genes.
I love cashew nuts from Vietnam. Do you have any plans to source Vietnamese cashews rather than from Africa?

Around 60% of the world's cashews are grown in the African continent. 90% of the raw cashew nuts are, subsequently, shipped raw to Asia (predominantly to Vietnam) for processing, where they are shelled, peeled, and packed. Most of the processed cashews are then transported to Europe and North America. Consequently, cashews consumed in the UK will travel around 25,000 miles from Africa, via Asia. Moreover, the origin of the product will shift from the producing country to the processing country; therefore most of the Vietnamese products in the market are not 100% grown in the country but have mixed origins.
What grade are your Cashew Nuts?

Our cashews are classified as Extra "white" and graded whole white 320 or 240 (WW320 or WW240). We always include grading of our products in accordance with international standards in the product page. 
I just bought these raw cashews and I would like to know whether it's necessary to store them in the fridge once opened.

Cashew nuts should be stored in an ambient environment, away from direct sunlight.
Will you be making roasted variety?

Well, we do love to roast and flavour cashews, in fact we test and trial a lot of this when we are developing our recipes for you. But at the moment our focus is on launching our organic and/or fairtrade range which includes some delicious raw options. We're nuts about quality and want to make sure we get everything just right before we start processing and flavouring.